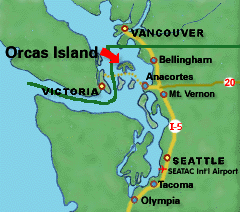 You travel to Orcas Island either by plane or by ferry. The Washington State Ferry System serves Orcas Island from the mainland terminal in Anacortes several times a day, and from Sidney, near Victoria, British Columbia, once daily. By car, the drive from Seattle to the Anacortes ferry terminal takes about 2 hours. Take I-5 north to the Highway 20 exit just north of Mt. Vernon. Take Highway 20 west, following the signs through Anacortes to the San Juan Islands Ferry Terminal. In the summer, the ferries are crowded. Plan to be at the terminal a minimum of 2 hours prior to the scheduled sailing in order to avoid lengthy delays. You can call the Washington State Ferries at (800)843-3779 for current schedules and advice on when to arrive for your planned sailing.
West Isle Air departs from Boeing Field, near SeaTac airport and arrives in Eastsound, Orcas Island several times daily. Harbor Air (floatplanes) depart from Lake Washington, in Seattle, and arrive in West Sound. Kenmore Air will fly into Deer Harbor by special arrangement. Taxi service, car rentals, and a summer bus line are available on Orcas Island. Be sure to have your local transportation arranged prior to your arrival.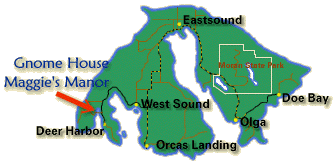 If you are traveling to the island by ferry you will disembark from the ferry at Orcas Village. Turn left as you leave the ferry ramp onto Horseshoe Highway. Follow this road for about 2.5 miles to the first "real" road to the left. It's called the Deer Harbor Road. You will see a directional sign post at the four way intersection. One of the signs pointing left says Deer Harbor Road.
TURN LEFT HERE
http://www.orcasvacationrentals.com/availability.html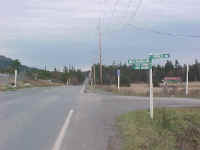 This beautiful coastal road winds through the community of West Sound and on into Deer Harbor, approximately 4.5 miles in all. After you drive about four miles you pass the Deer Harbor Inn on your left, continue driving slowly down a small hill, and at the bottom, turn right onto "Channel Road."
TURN RIGHT HERE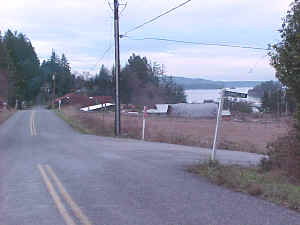 Drive down the hill on Channel Road over the little wooden bridge and continue on.
If you are staying at Maggie's Manor, drive along Channel Road till you come to #508 which is
a driveway on your right that looks like this =>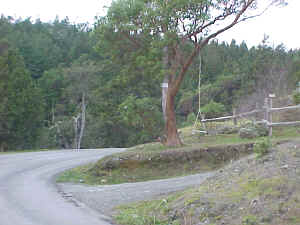 Please do not plan to arrive before 4 PM.
If you are staying at the Gnome House or Grandma and Grandpa's Getaway drive 200 yards further along Channel Road until you see the next driveway on the right 704 Channel Road.
TURN RIGHT HERE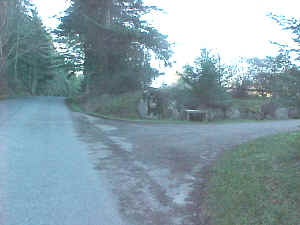 and keep to the right along a gravel driveway until you arrive at the Gnome House, uphill on your right, and Grandma and Grandpa's Getaway straight ahead of you. .
Please do not plan to arrive before 3 PM.
If you have trouble finding us call us at 360-376-2480 our home office,
or 360-376-4223 Meg's cell phone or 360-378-7830 Bob's cell phone